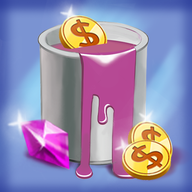 Pixel Art Tycoon – idle art gallery game is an idle painter simulator with plenty of great artworks. Have fun and discover new and more complex paintings. Learn about real artists and their artworks. Pixel Art Tycoon has a huge content to unlock.
Develop your painter skills and make more complex paintings. Upgrade your brush and remember to speed up. Use some loots and special effects to earn more cash. Earn idle cash when offline. Every painting you make is earning idle cash for you. It's up to you how to earn and spend your idle cash.
Manage your exhibits. Collect new finished pictures. Present your finished artworks in the art gallery. Your idle income is based on your decisions. Choose pictures and put them in the gallery. You can upgrade your art gallery to extend its capacity.
Pixel Art Tycoon is fun and education. Discover famous painters by playing with their artworks. Look at the times they lived and scenes they painted. Check out different styles of their artworks.